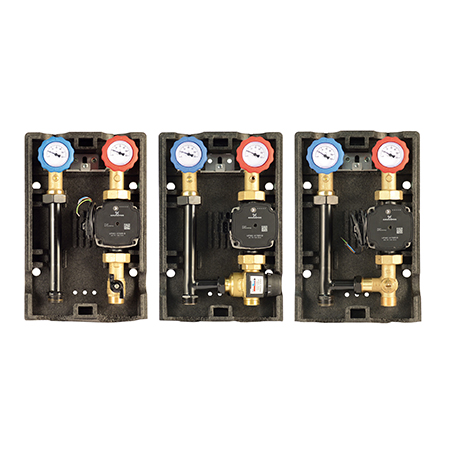 PUMP UNITS
Model
Download
Description
Use
Codice / Code
Tipo / Type
Alimentazione / Power supply
i
GR1D **
diretto / direct
230V
125 mm
GR1T **
miscelato • punto fisso /
mixed • fixed point
230V
125 mm
GR1M **
miscelato • modulante */
mixed • modulating *
230V
125 mm
* Richiede servocomando, vedi accessori
To combine with an actuator, see accessories
** i gruppi vengono forniti con mandata
a destra e ritorno a sinistra, sono reversibili
in fase di installazione.
Il gruppo GR1M non è reversibile.
Pump groups are supplied with right inlet
and left outlet and they can be reversed
during installation.
Pump group GR1M is not reversible.
Direct and mixed – 1″ connections
Pump units are supplied with right inlet and left outlet; they can be reversed during installation, except for the code GR1M
Included insulation
EXAMPLE OF USE (ITA)